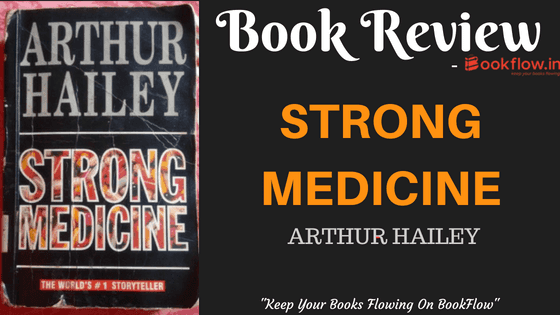 Strong Medicine is a Arthur Hailey's magnum opus published in 1984. Arthur Hailey has meticulously created epic plots concentrating on a single industry each time, be it the automobile industry in 'Wheels' or the pharmaceutical industry in this book. His legacy started with the overnight success of his TV play 'Flight into Danger'. He wrote eleven novels and sold 170 million copies in 38 languages worldwide. This book deals with issues of working in the pharmaceutical industry by the protagonist Celia and how she deals with them keeping her conscience clear amid the chaos. The book was also adopted into a TV movie in 1986.
Characters-
Celia de Grey Jordan – The protagonist is a strong willed woman working as a detail women in a pharmaceutical company Felding-Roth and then eventually succeeds to become the president of the company in a complete male dominated industry. She is the true modern day heroine who sticks to the righteous path no matter the circumstances. She's married to Andrew Jordan and has two children Lisa and Brucie.
Dr Andrew Jordan – The character whose conscience always leads to something positive, a great doctor and a loving husband.
Sam Hawthorne – Cultured and wise, believes in Celia and chief executive at Felding-Roth.
Lilian Hawthorne – Wife of Sam Hawthorne.
Dr Martin Peat-Smith – British researcher and doctor at Cambridge until he heads the Felding-Roth plant in Harlow. Hard working and dedicated, he succeeds in creating drug called peptide 7 to cure brain ageing.
Dr Vincent Lord – Equally hard working and the research head at the Felding-Roth, antagonizes Celia and plays main role in drug Hexin W.
Dennis Donohue -Unscrupulous senator, demagogue and pledges to destroy Celia and Felding-Roth for ruining his reputation.
Dr Noah Townsend – Senior of Andrew, most respectful, helped Andrew a lot and later becoming a drug addict. 
Juliet – Daughter of Sam and Lilian.
Yvonne – Assistant and love interest of Martin, jumpy and cheerful who wants to pursue vet.
Summary-
The journey starts with Celia working as detail women who visits the hospital in which Andrew works and eventually helping Andrew to save a woman's life. Andrew is captivated by her intelligence and the zeal to change things in sales in pharmaceutical industry. Soon they were married and blessed by a baby girl Lisa. However things in their professional life's is becoming more complex as Andrew watches his senior inclining towards becoming a drug addict and even after going to higher authorities nothing changed, Andrew was frustrated and the death of a patient due to Noah's carelessness draws Andrew into guilt. Celia faces discrimination in the male dominant industry and the guilt of two massive drug failures causing thousands of lives. She however tries everything to stop the drug Montanye, even gives her resignation knowing she was the vice president and her career would be finished but fails as the company decides to go ahead with the drug. Sam Hawthorne always believed and supported her. However the guilt of giving the Montanye to his own grandchild and the side effects of drug took over Sam and he suicides. All the board of directors pleads to Celia to come back and head the company get out of the sudden crisis. Meanwhile the discovery of peptide 7 and the immense popularity did helped the company to regain its momentum. Dr Vincent Lord's discovery of Hexin W and the animosity of Senator takes a completely unexpected trail of events. It will be interesting to see how each and every person related to the pharmaceutical, medicine, advertising, manufacturing, developing, media affects so unexpectedly.
Critical Review- 
Arthur Hailey never fails to surprise us with his meticulous knowledge about any industry and the way he explains difficult technicalities with such ease that a person completely unaware would also understand and gets indulged in the book. Like his previous books Arthur creatively directs the plot and character to the pharmaceutical industry. The characters are woven together to the plot so effortlessly that it compels us to appreciate the ingenious. As a reader you'll be captivated by Celia and Andrew's character, they set an example that no matter the surrounding or situations one must follow his/her conscience and do the righteous thing. Celia's stouthearted and undaunted nature will leave a mark on everyone. This book is a must read for all those who are seeking something intriguing and exciting.