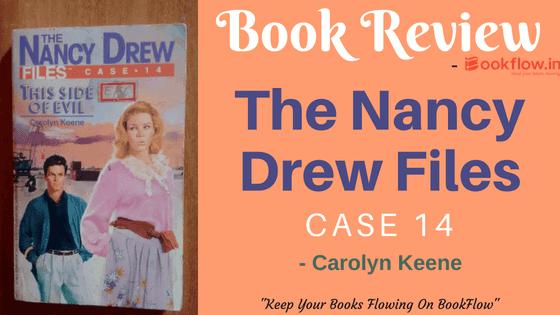 The Nancy Drew Files is a detective fiction started in 1986 and released by Simon & Schuster. It is based on the adventures of detective protagonist Nancy Drew, with more than 17 million copies sold and appeared on the best seller list of Publishers Weekly, B.Dalton and Waldenbooks these series of detective fiction had been the favourite of almost everybody from the age of seven to twenty-seven. Each pocket sized book is very handy and full of drama,suspense and romance. 
Plot Summary-
Nancy was hired by Ashley Amberton, executive secretary at Cherbourg to solve a simple blackmailing case which later turns out to be life threatening event for Nancy, George and Ned. The blackmailer preys on three employees of Cherbourg with their dirty secrets to thwart money. Suspects in this case are Jacques Olivier, the chauffeur who has more than one skeleton in the closet;Lake Sinclair, a spoiled heiress;Annette LeBeau, the TV newscaster and Dr.Emile Dandridge, the plastic surgeon. The case looks pale until Nancy was attacked by limousine, nitrogen gas in her own kitchen and followed by the kidnapping of George and the master plan of murdering all three of them. As Nancy gets deeper in to the case she senses a master mind, someone who is as smart as she. It will be interesting how Nancy will save George's life and track down the culprit.
Critical Review-
Like all the cases files of Nancy Drew, this one allows provides drama, thrill and her detective instincts. We are also marveled by Nancy about her capabilities to solve cases with ease, but this time she failed till the final show to identify the real blackmailer, kidnapper and murderer. Though the clues dropped always directed towards the suspect, Nancy however just ignored the clues and goes in the wrong direction all the time while the suspect was right in front of her. All in all this case was a good read.