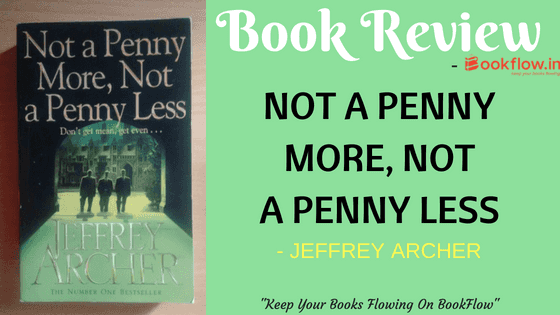 Not a penny more not a penny less critically acclaimed was Jeffrey Archer's first novel, published in 1976, turned into a TV series & a movie too. It was often said that the book was slightly inspired by Archer's real life experience of near bankruptcy. Harvey Melcalfe, in his 40s has mastered the art of pulling out shady deals quite easily & has successfully advanced from a messenger boy to mogul. But by selling inflated oil stock ( Prospecta Oil), this time however he has conned the wrong guys - Stephen Bradley, an American mathematics professor at the university of Oxford, Dr. Robin Oakley, a Harley Street doctor, Jean-Pierre Lamanns, a French art dealer with a gallery in London, and James Brigsley, heir to an earldom. Each has bought stock and suffered miserably when the stock prices fall drastically. Bradley discovers about the Metcalfe's responsibility in this fraud, and organizes the other three to get their money back from Metcalfe not a penny more and not a penny less.
Characters-
Harvey Metcalfe - a polish immigrant to the US, had a ruined childhood but rises from messenger boy to corporate magnate, combing business skills & stock market he managed to became a millionaire.

Stephen Bradley - an American professor at the university of Oxford,teaches mathematics & a organised man who plans everything prior.

Robin Oakley - a Harley Street doctor, very good looking man that every lady would love to be treated by in case of any medical issue.

Jean-Pierre Lamanns - a French art dealer with a gallery in London, fancies great paintings and want to have some in his gallery.

James Brigsley - heir to an earldom, good at acting and wants to peruse it but his father is against it.
Anne Summerton - working as a model,dating James & eventually marries him. Later revealed her original name is Rosaline Metcalfe.  
Plot- 
Prospecta Oil was a paper company designed to look good on paper and lure investors. Metcalfe cleverly hires David Kesler, a Harvard MBA who unintentionally talks up about the company to the four protagonists and they end up investing a huge amount of money in search of making a quick profit. David himself believed the story and invested huge amount of money in the Prospecta Oil stocks. Harvey clearly plotted the whole scene so that not even a single thread can lead towards him. Bradley discovers about Harvey's plan & decides to organize the other three to get their money back. All four of them met & decided their individual plans so that they can get the money back. Bradley gives them dossiers in which everything related to Harvey was there, & they developed a strategic plan against him where he least expected. Jean-Pierre targeted his interest in painting by luring him to buy a fake Van Gogh painting that Hervey always wanted. Next comes Dr Robin. When Harvey arrived in Monte Carlo, they drugged him at a Casino causing severe abdominal pain and performed a fake surgery and gives him a large bill as they faked Robin to be a renowned Doctor. Third comes Stephen's plan , in which he impersonates as an Oxford Official, and gets Harvey to think that he is getting a honorary degree in exchange of contribution. James however still didn't deduced any plan as he was quite busy with Miss Anne Summerton. James was traumatized when he met his to be father-in law Harvey Metcalfe. Others were also shocked at James wedding when they realized that Anne was Rosaline , Harvey's daughter. But eventually James completed his share of plan when Harvey gives Rosaline her wedding gift in cash which she later scribbled in Stephen's name. Though they recovered all their money Stephen sulks a little with the remaining $1.24. They landed in London to learn that the new discovery has caused the market price of shares of Prospecta Oil to an all time high & that all four of them has made exponential profits. They now have stolen a million, and also the shares worth more than a million. Stephen suggests to figure out a plan to return the stolen million back to Harvey Metcalfe. 
Critical Review- 
This is a very extraordinary plot which will keep you glued till the last page. Jeffrey Archer is one such author who will make you feel the plot as if you were actually experiencing it live. The thing that intrigued the most is how creatively Jeffrey Archer holds the attention of the audiences till the last page is turned. The best thing about the novel was the right amount of twist and turns and the detailing of all the technicalities along with that of characters & their plans. Its also commendable how before making Harvey the target villain he explained about the hardships he faced & how he became from a nobody to a millionaire all by himself. The novel has all in all a perfect mix of thrill, suspense, humor & slight romance. It is a must read for all those who are looking for something extremely engaging and believe I'm not glorifying it.
Paths Of Glory By Jeffrey Archer Book Review